About Twitter x Ryder
Announcing Twitter & Ryder!  Twitter is the daughter of our famous boy Whiskey! With the combination of Twitters beautiful coat, low drive temperament and cross that with one of our smartest and friendliest boys Ryder, we hope to have some pretty spectacular puppies right around Christmas time! We are beyond excited.
We will only be accepting two merle reservations and two tri colors reservations for the litter. Please read below on how our puppy reservations work and then please contact us at 801-602-9365.
RESERVATION LIST OPEN FOR THE LITTER
1. Breeder hold
2. Lewis – blue or red merle female
3.  Sanchez – blue or red merle female
4. tri reservation open
5. tri reservation open
~PLEASE READ BELOW DETAILS ON HOW TO RESERVE A FUTURE PUPPY ~
A $700 NON- REFUNDABLE deposit is required to reserve a future puppy with Canyon Creek.  If the puppies in your reserved litter born do not meet your criteria or you are not able to choose a puppy, your deposit will be applied to a different litter of your choosing.  Puppy choices are determined by your place in line.  You do have the choice to be notified of ALL available puppies and not just a particular color or sex,  although you may not have first choice in a specific litter.
We will only accept 4 deposits on the litter.  
WHAT HAPPENS WHEN A LITTER IS BORN?
Once a litter is born you will be notified within a few days time of available puppies.  You will then pay the additional $300 to reserve a particular pup. This must be done when the litter is born.  You will have now met the total  $1,000 deposit.  If there is not a puppy born that you want to reserve we will move your $700 deposit to a different litter.   We will not hold puppies until eye color is determined.   The balance due on your puppy will be due @ 7 weeks old.  
We will not ship a puppy without being paid in full.   The $1,000 deposit will be NON-REFUNDABLE .   No exceptions.  We have had people who call the week/night before the puppy is supposed to leave and offer their reason why they can no longer take the puppy.  That is too late to expect your deposit be transferred.  By then we have made travel arrangements and turned down additional buyers multiple times on that puppy.  Our time is valuable, as well as yours, and at 8 weeks old these puppies need to start bonding to their new families instead of back to trying to find a new home.
WHEN IS MY PUPPY READY FOR PICKUP?
All puppies are ready for their new home at 8 weeks old.  Please through our FAQ page for much more information on pick up/delivery and what is included with your puppy.
ADDITIONAL INFO
*Please note we will not accept any deposit until you have gone through our process of making sure that an aussie is a good fit for you and your family.  We want to talk to you!  If you are already a CC or aussie owner, that is fantastic news! We can't wait to help you find another wiggle butt!
Full registration is NOT available
This litter will be priced from $2,500 – $ 4,000
Twitter x Ryder's Gallery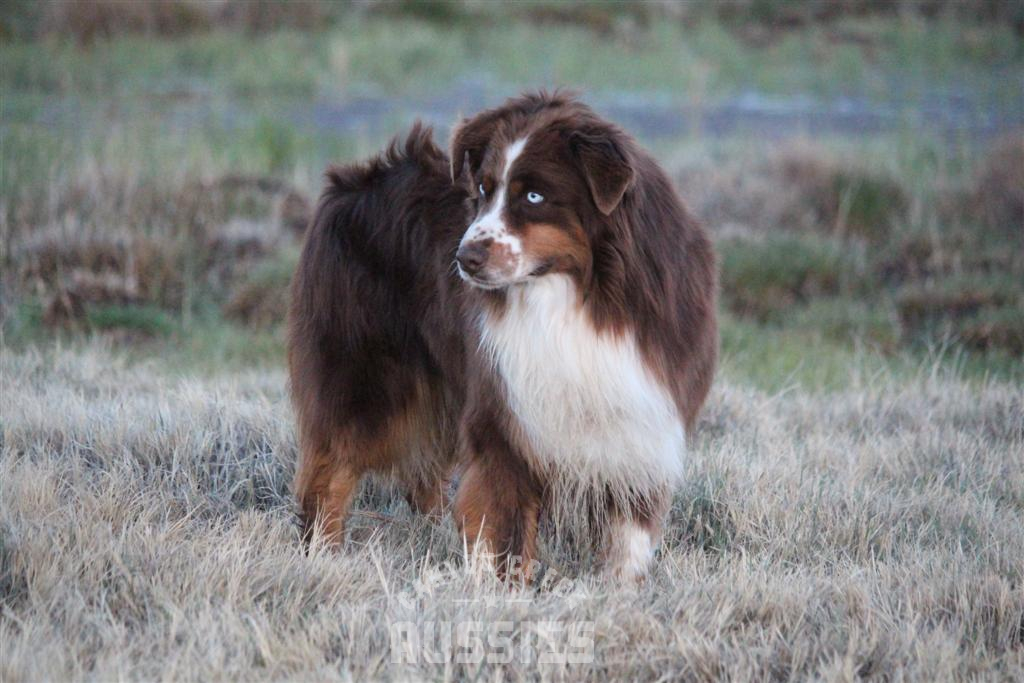 Ryder (dad)
See The Parent
Twitter (mom)
See The Parent