Canyon Creek

Australian Shepherds
Hello! Welcome to Canyon Creek Aussies. We are a small family kennel and have been raising Australian Shepherds for the past 15 years.
We have a deep love for our dogs and strive to always improve the breed. Our focus is temperament & health followed closely by conformation! We love the big blocky heads and nice bone!
Canyon Creek is nestled in the mountains of central Utah on our 60 acre ranch, we sure enjoy the warm days and cool nights in the summer, along with the peace and tranquility that comes living in such an amazing place. Our dogs have several large playgrounds catered just for them according to their age, including a horse walker tuned dog toy mobile!
Yes, we have puppies for sale year round.  All of our puppies go to their new homes well socialized by us as well as the kids. They are ready to be a part of your family. All of our adults are health tested to ensure we are raising healthy and happy puppies.  All puppies go home with a new puppy kit that includes puppy food, harness, leash and more! Each puppy has a final vet check to ensure they are healthy and ready to take on the world!
Yes, we stay very busy here at the ranch but we feel so blessed to be greeted every morning by these amazing and wonderful animals! You can see all of our standard Australian Shepherds, as well as our mini Australian Shepherds in the menu above.
You can find more information about us and our program in the menu above and in our blog.
Canyon Creek Aussie Family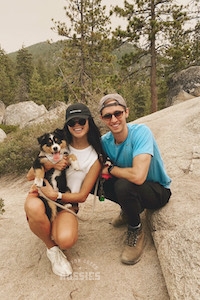 We're so grateful to Canyon Creek for bringing Murphy into our lives! We researched a handful of breeders across California and Utah, and what set Canyon Creek apart was their community and their dedication to raising loving, healthy dogs in a family environment. Angie was super helpful, responsive, and easy to work with. She connected us with several couples who were raising their pups in cities like we would be, and they all had amazing things to say about their pups' temperaments and personalities. Since we picked Murphy up, they've been right there with us through all of her puppy phases, sharing tips, stories, and support from around the country. Murphy has the sweetest demeanor: she's low drive but curious and willing to learn, and nothing makes her happier than exploring new places and meeting new people. You can tell how much care she was given as a puppy because she's so loving and well-adjusted. She took to crate training right away, and is really good with kids and dogs of all sizes — people even comment on how chill and well-behaved she is compared to most puppies her age. We love Murphy so much, and can't recommend Canyon Creek enough!
~ Lauren & Michael, San Francisco, CA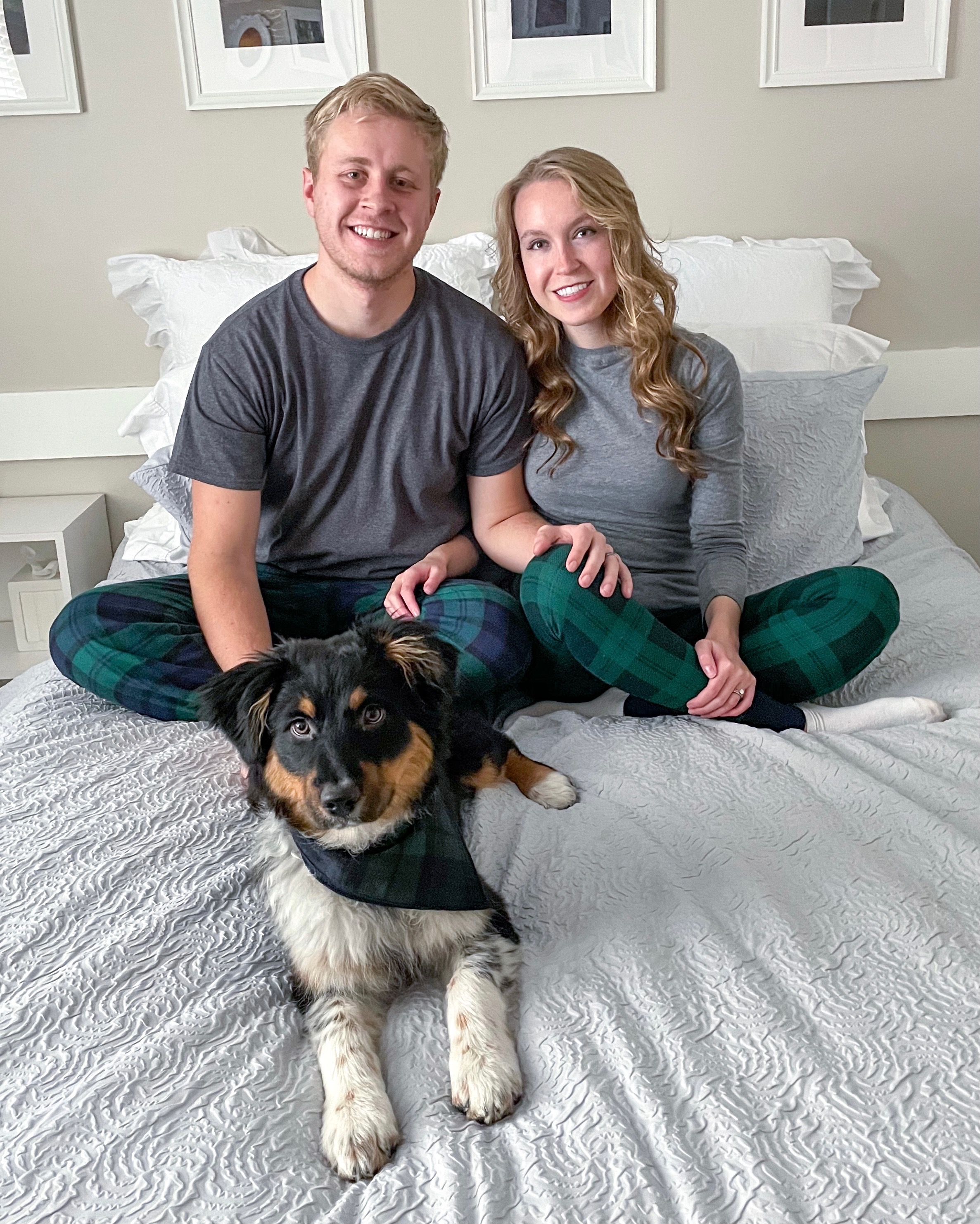 We got our sweet girl almost 4 months ago and we could not be happier!! She has the perfect temperament and energy level. She is so friendly and smart and so trainable!! She is great around kids, other dogs, loud noises, everything! She is gorgeous and maturing so well. We really can take her anywhere! I absolutely thank Canyon Creek's breeding for her temperament. Our dog fits into our life perfectly. We also love that Canyon Creek has still remained part of our lives through social media. We were so happy to find such a quality breeder so close to us! Angie was awesome and met us halfway so we didn't have to drive as much when we picked her up. She was also awesome about answering our many questions as we were preparing to get her and even after she was home with us! Angie listened to us and knew what we wanted and gave us the perfect dog!
~ Sara & Nick, Provo, UT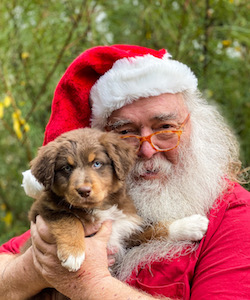 Sadly, in October of this year we lost our beloved 12-year-old red tri aussie, Layla—the matriarch of our extended dog family. At first, we wanted to wait awhile before bringing a puppy home, but our 3-year-old red tri, Sasha, seemed a little lost without her best friend. Also, our daughter, Amaya, had just gotten this amazing puppy from Canyon Creek, June. Sasha perked up instantly whenever June came over to visit and we were just amazed at what a good puppy June was. Amaya sent us the link for Canyon Creek Aussies and we immediately fell in love with Pyramid, who we decided to name Osa, because she looked just like a bear cub. Osa will be our 5th aussie and the 9thone in our extended family. We went with a puppy from Canyon Creek for a few reasons. After watching the videos on their social media pages we could tell how much they loved their puppies and especially liked the amount of socialization they were getting from the Canyon Creek family, including the children. Their puppies just seemed so well adjusted. Meeting June was the clincher, she was one of the happiest, friendliest, most self-assured and sweetest puppies we'd been around. Picking Osa up was an amazing day. She was so happy and easy going, jumping right in the back seat with Sasha and our adopted Terrier Mix, Penny for the ride home. As soon as we got home, she became an instant member of the pack, playing and exploring so confidently. Osa is now only the second aussie we have owned, along with Sasha, that just loves everybody (especially children) from the start. She was also the first to sleep through the night from the second night on. We could not be happier to have joined the Canyon Creek Aussie family, thank you all so much! Osa is just so special.
D'Amico Family ~ Burbank, CA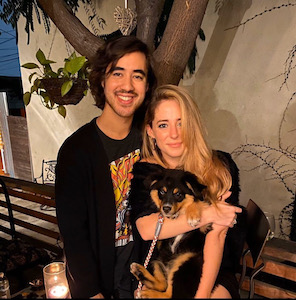 Canyon Creek Aussies changed our lives! We came across them on social media, and found Zuzu on their list of available puppies. Something about her spoke to us, so we gave them a call. They immediately picked up and provided helpful feedback about her, as well as answered our numerous questions. We've had Zuzu for about 4 months now and she's a perfect angel. You can tell she was extremely well cared for as a puppy as she is the biggest love bug. We tell everyone who will listen about Canyon Creek Aussies and will continue to spread the good word. We love this family and their beautiful aussies pups!
Stephan & Ellie, Los Angeles, CA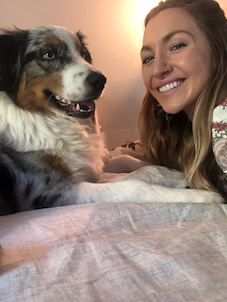 Since I was a little kid, I always dreamed of owning and training an Australian Shepherd. When the time finally felt right, after twenty years of waiting, Canyon Creek Aussies made that dream come true. I had researched every breeder I could find in four states, and I am still convinced I found the very best. This family of all stars truly cares about the health of their dogs and puppies, is deeply intentional about the bloodlines, and works to ensure that each dog is placed in a responsible and loving home. My Kalu is everything I could have hoped for and more: demeanor, drive, smarts, and looks to match. And when the time comes to get him a buddy, there's no one else I'd consider going to. Thank you, Canyon Creek!
Aubrey ~ Boulder, CO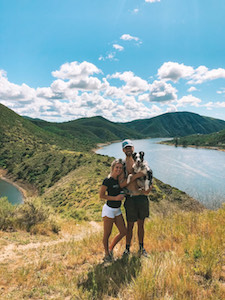 Canyon Creek Aussies made finding the puppy of our dreams a reality! Once we came across their dogs, we knew we couldn't go anywhere else. They are extremely knowledgeable, caring and had all the credentials that put us at ease through the whole process. The moment we saw Ghost (previously Tango), we knew she was our girl. While waiting to pick her up, Canyon Creek sent us photos/videos almost daily which established a connection with Ghost before we even met her in person. Everyone that encounters Ghost is blown away with her personality and beauty, as are we. That is due to the exquisite knowledge of Canyon Creek Aussies! She is the smartest little aussie puppy, and after only having her for 2 months, we couldn't imagine life without her! We are so blessed to have come across the amazing people and dogs at Canyon Creek Aussies!
Rachel & Erik ~ Del Mar, California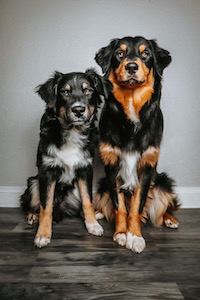 It is hard to put into words the joy that Canyon Creek brought into our lives. Scout is my best friend and I could not imagine my life without her by my side. She is sweet, incredibly smart, sometimes stubborn, but always loving. We loved her so so much that not even 6 months later we went back to find a brother for her! We also love the fact that we still get to chat with everyone from Canyon Creek and share pictures and stories with them. Thank you so much for the two most amazing dogs we could have ever asked for! You better believe when we have the space we will be back for more of your sweet babies!

Elena Bidwell
Las Vegas, Nevada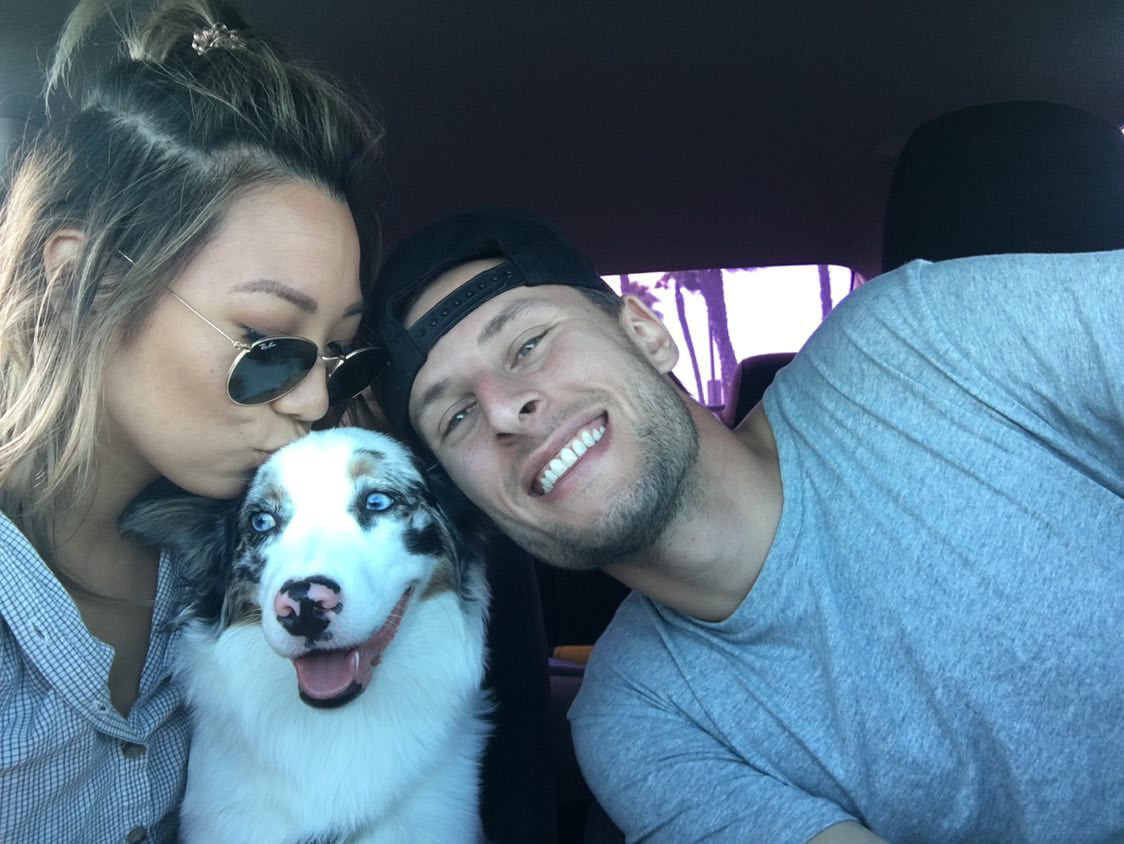 Thank you so much Canyon Creek for blessing us with the most loving, sweet puppy. Romeo was a lover from the day we got him. He is extremely intelligent and his calm temperament has us obsessed. We would 100% consider getting Romeo another sibling in the near future ! Canyon Creek Aussies was so helpful and nice. It really made the whole process smooth. Our puppy is living his best life in Southern California!

Renee Shin and Sammy Selman, Irvine, California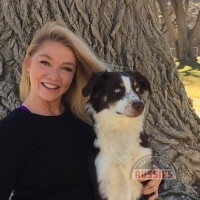 This handsome blue eyed Red Tri Australian Shepherd boy has been a total joy to have in my life. Not only is he so very handsome with his dark red coat and piercing blue eyes, he is also very talented and athletic. Beyond all that, his loving and loyal temperament has stolen my heart away.   May you all be blessed to have a dog like my 'Canyon Creek Blue Eyed Brody'.....

Kim A.
Carson City, NV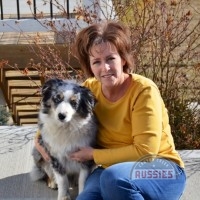 This is my boy Deuce.  He is my little shadow....everywhere I go, he goes with me!   He's the total package-so loving, smart and has the best temperament.  Definitely everything I could have asked for in an Aussie.  Thank you Canyon Creek Aussies!

Tracy N.
Amord,  MO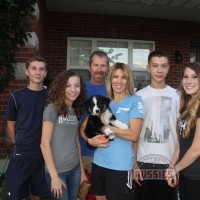 We are so pleased with Canyon Creek Aussies. Canyon Creek was very responsive, informative, and very nice to communicate with! Our pup has a great temperament and loves to play with our kids and dogs. As a dog trainer, I appreciate the witty intelligent personality of these Australian Shepherds.... He was super easy to train and potty train!

Paduanio Family,
Mapleton, UT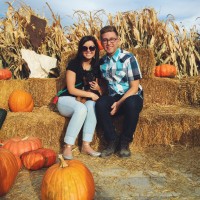 Canyon Creek was so easy to work with and very professional. They gave us tons of advice and everything we needed. We love our girl Pepper. She is so fun and full of energy. She aims to please and is super smart. Our first week we had her she was already potty trained and learning tricks! We couldn't be more pleased with her. We are very happy with the whole experience and are glad to have such a wonderful dog to be apart of our family. Thank you Canyon Creek Aussies!

The Fisher family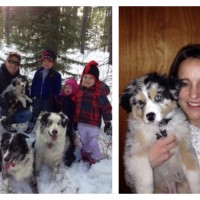 Thank you so much Canyon Creek Aussies for giving us the opportunity to add Lucy to our family. My husband and I fell in love with Aussies 10 years ago and Lucy has fit into our family perfectly. She is so loving, playful, and adores our other two Aussies.  One of Lucy's favorite games is to bark and play with our spring doorstops, which can entertain her for quite some time.  She is loving the new snow and is even making friends with our chickens.  Lucy is getting used to the sound of a snowmobile and loves riding on the 4-wheeler.  We've only had her for about 3 weeks, but it definitely feels like she's always belonged with us.  Thanks again for such an amazing blue merle puppy! ~ Adams Family -Idaho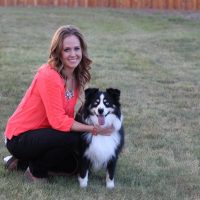 Two beauties right here.... This is our Australian Shepherd Male Tri with blue eyes and a loving personality.  Gunner has been Angie's favorite since he was just a puppy.  Is that called puppy love?
He's become the face of Canyon Creek Aussies and we sure do love this boy. Great temperment, great personality and loves to play.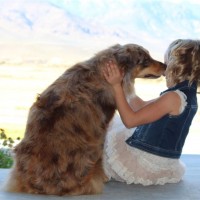 If ever a little girl was attached to a Red Merle Australian Shepherd, it is Alayna and Frankie.  From the minute she comes to visit, Frankie is by her side.  Frankie is loyal to the end with the grandchildren and has an especially soft spot for a little blonde haired girl that goes by the nickname Laynie Bug.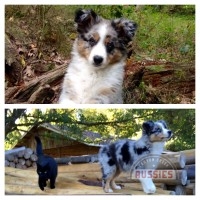 Skye is the complete package: Intelligent,inquisitive, energetic, affectionate, fearless, and of course a little bit mischievous...everything we wanted in our Aussie.  Thank you Canyon Creek Aussies!

Stan & Julie,
Whitehall MI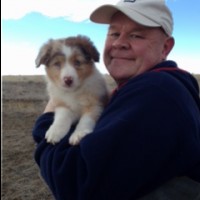 Truly a gift from heaven and Canyon Creek Aussies !!! This little beauty came into my family on Feb. 12.  Canyon Creek Aussies have the secret recipe for blending temperament, intelligence, conformation, and heart into one joy filled package! She has "big shoes to fill" yet within 24 hours she is fulfilling and exceeding all my expectations. Canyon Creek can only produce a girl like her out of love and caring. All my respect and thanks.

David - Montana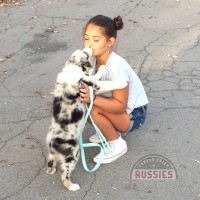 Love at first sight!  Harley greeted us with a big smile and many tail wags to let us know how happy he was to be with us.  Since arriving, he has fit in perfectly with his older brother and sister doggie siblings and his two older human sisters.  He is very, very social with everyone he meets and he was practically potty-trained when we met him.  He has only had a few accidents, otherwise he is very respectful of us and of our property.  I've taken him running and hiking and he loves both.  He's ready for anyone and anything.  I know we are going to enjoy a lifetime of love with Harley.  Thank you so much for all you do to ensure the puppies you raise are loving, smart, healthy and beautiful.

Angela Noble-Grange
Ithaca, NY