Come and meet your new best friend!
Animated, adaptable and agile, the Australian Shepherd lives for his job, which still involves herding livestock and working as an all-purpose farm and ranch dog. He needs a lot of activity and a sense of purpose to be truly content. Today, due to the breed's intelligence and versatility, "Aussies" also excel in AKC events such as agility, obedience and herding. Their coats can be black, blue merle, red merle and red with or without white markings.
Are Australian Shepherds The Right Breed For You?
An energetic breed with strong herding and guarding instincts, the Aussie requires daily vigorous exercise. Although sometimes reserved with strangers, they are "people" dogs that want to always be near their families. Their thick coats require weekly brushing.
© The American Kennel Club, Inc.
Canyon Creek Aussie Family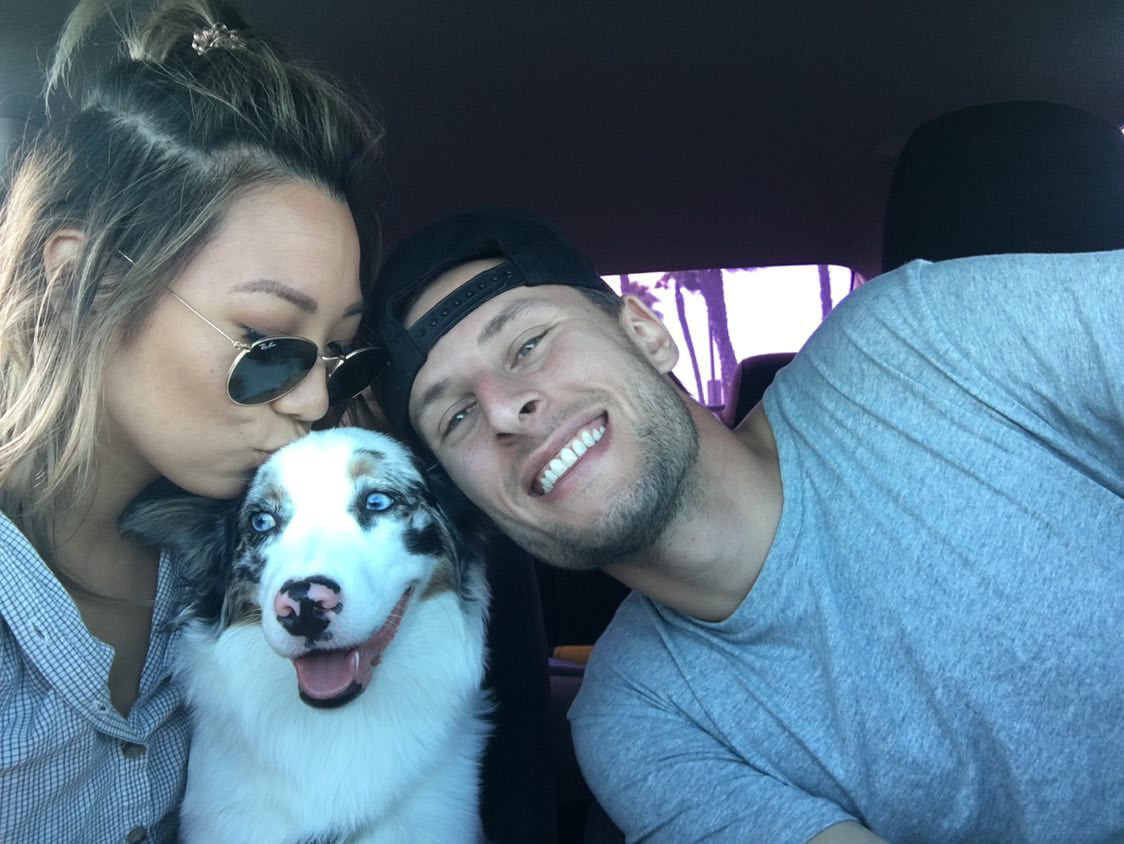 Thank you so much Canyon Creek for blessing us with the most loving, sweet puppy. Romeo was a lover from the day we got him. He is extremely intelligent and his calm temperament has us obsessed. We would 100% consider getting Romeo another sibling in the near future ! Canyon Creek Aussies was so helpful and nice. It really made the whole process smooth. Our puppy is living his best life in Southern California!

Renee Shin and Sammy Selman, Irvine, California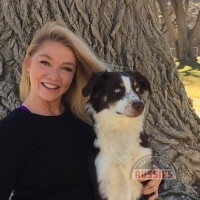 This handsome blue eyed Red Tri Australian Shepherd boy has been a total joy to have in my life. Not only is he so very handsome with his dark red coat and piercing blue eyes, he is also very talented and athletic. Beyond all that, his loving and loyal temperament has stolen my heart away.   May you all be blessed to have a dog like my 'Canyon Creek Blue Eyed Brody'.....

Kim A.
Carson City, NV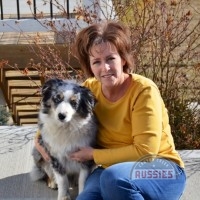 This is my boy Deuce.  He is my little shadow....everywhere I go, he goes with me!   He's the total package-so loving, smart and has the best temperament.  Definitely everything I could have asked for in an Aussie.  Thank you Canyon Creek Aussies!

Tracy N.
Amord,  MO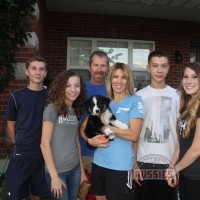 We are so pleased with Canyon Creek Aussies. Canyon Creek was very responsive, informative, and very nice to communicate with! Our pup has a great temperament and loves to play with our kids and dogs. As a dog trainer, I appreciate the witty intelligent personality of these Australian Shepherds.... He was super easy to train and potty train!

Paduanio Family,
Mapleton, UT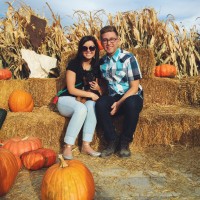 Canyon Creek was so easy to work with and very professional. They gave us tons of advice and everything we needed. We love our girl Pepper. She is so fun and full of energy. She aims to please and is super smart. Our first week we had her she was already potty trained and learning tricks! We couldn't be more pleased with her. We are very happy with the whole experience and are glad to have such a wonderful dog to be apart of our family. Thank you Canyon Creek Aussies!

The Fisher family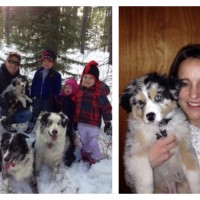 Thank you so much Canyon Creek Aussies for giving us the opportunity to add Lucy to our family. My husband and I fell in love with Aussies 10 years ago and Lucy has fit into our family perfectly. She is so loving, playful, and adores our other two Aussies.  One of Lucy's favorite games is to bark and play with our spring doorstops, which can entertain her for quite some time.  She is loving the new snow and is even making friends with our chickens.  Lucy is getting used to the sound of a snowmobile and loves riding on the 4-wheeler.  We've only had her for about 3 weeks, but it definitely feels like she's always belonged with us.  Thanks again for such an amazing blue merle puppy! ~ Adams Family -Idaho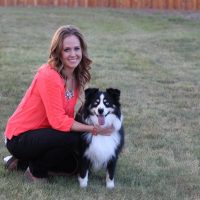 Two beauties right here.... This is our Australian Shepherd Male Tri with blue eyes and a loving personality.  Gunner has been Angie's favorite since he was just a puppy.  Is that called puppy love?
He's become the face of Canyon Creek Aussies and we sure do love this boy. Great temperment, great personality and loves to play.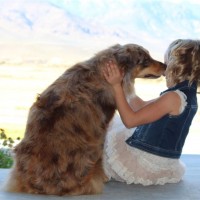 If ever a little girl was attached to a Red Merle Australian Shepherd, it is Alayna and Frankie.  From the minute she comes to visit, Frankie is by her side.  Frankie is loyal to the end with the grandchildren and has an especially soft spot for a little blonde haired girl that goes by the nickname Laynie Bug.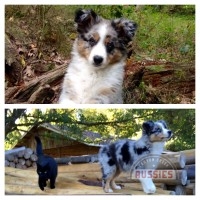 Skye is the complete package: Intelligent,inquisitive, energetic, affectionate, fearless, and of course a little bit mischievous...everything we wanted in our Aussie.  Thank you Canyon Creek Aussies!

Stan & Julie,
Whitehall MI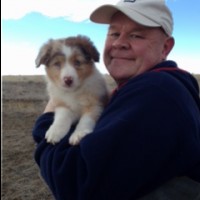 Truly a gift from heaven and Canyon Creek Aussies !!! This little beauty came into my family on Feb. 12.  Canyon Creek Aussies have the secret recipe for blending temperament, intelligence, conformation, and heart into one joy filled package! She has "big shoes to fill" yet within 24 hours she is fulfilling and exceeding all my expectations. Canyon Creek can only produce a girl like her out of love and caring. All my respect and thanks.

David - Montana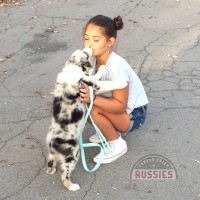 Love at first sight!  Harley greeted us with a big smile and many tail wags to let us know how happy he was to be with us.  Since arriving, he has fit in perfectly with his older brother and sister doggie siblings and his two older human sisters.  He is very, very social with everyone he meets and he was practically potty-trained when we met him.  He has only had a few accidents, otherwise he is very respectful of us and of our property.  I've taken him running and hiking and he loves both.  He's ready for anyone and anything.  I know we are going to enjoy a lifetime of love with Harley.  Thank you so much for all you do to ensure the puppies you raise are loving, smart, healthy and beautiful.

Angela Noble-Grange
Ithaca, NY